SP.D trailed field sprayers are designed to satisfy the numerous needs of open field weed-killing.

They are a top of the range, advanced, specialised product made for top quality precision professional treatments.

The various spray booms available, together with the various applications and optionals allow the SP.D field sprayers to be customised according to the needs of individual users and the treatments to be performed.

All SP.D field sprayers comply with EC health and safety standards.

They are available with 1500, 2000, 2500 and 3000 litre tank with actual capacity higher than nominal capacity in compliance with current regulations.

- Clean water tank for hand-washing.
- Distribution circuit washing device.
- Low pressure diaphragm pump for calibrated distribution.
- Hydraulic agitation of liquid in tank.
- Single, triple (trijet) or quadruple (quadrijet) nylon nozzles, single or double (bijet) brass nozzles. All with membrane anti-drip device.
- Kematal, ceramic, brass, stainless steel, with anti-drift device, for low volumes spray tips.

HERBICIDE BOOM AVAILABLE:
- mechanical with rear closure and working width of up to 16 m;
- hydraulic with cross closure and working width of from 6 to 15 m;
- hydraulic with front side closure and working width of from 15 to 24 m;

| | | | | |
| --- | --- | --- | --- | --- |
| TYPE | SP.D 1500 (SENZA BARRA) | SP.D 2000 (SENZA BARRA) | SP.D 2500 (SENZA BARRA) | SP.D 3000 (SENZA BARRA) |
| Tank capacity liters | 1590 | 2120 | 2640 | 3160 |
| Length, cm | 380 | 430 | 430 | 430 |
| Height, cm | 160 | 190 | 210 | 295 |
| Width, cm | 145 | 150 | 150 | 150 |
Specifications may be altered without notice
*weights vary depending staging
Atomizzatori FLORIDA - Polverizzatore SPD
Di Serie

Outside scaled glass level guage.
Longitudinal agitator.
Clean water tank for hand-washing.
Spraying circuit washing device.
Platform access ladder.

Low pressure volumetric control unit.
Articulated drawbar with tractor arms coupling
Optional
Signal light systems.
Kit for tank filling from the intake filter.
Hydraulic pump with tank and oil filter.
Foam marker.

Rotating nozzle with tank washing jet.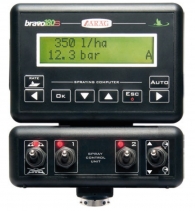 Computer for product distribution.
Control unit with general electrical opening/closing
Electric controls for product distribution.
Electric hydraulic distributor unit for piston movement of the boom.
Filters on the boom sections.
External hopper style premixer with washing device for chemical containers.
External hopper style premixer.
Ceramic, brass, stainless steel, with anti-drift device, for low volumes spray tips.
Double brass nozzles (bijet).
Single nozzles in brass.
Triple nozzles (trijet) in nylon.